NPR story on surge in Black Lung cases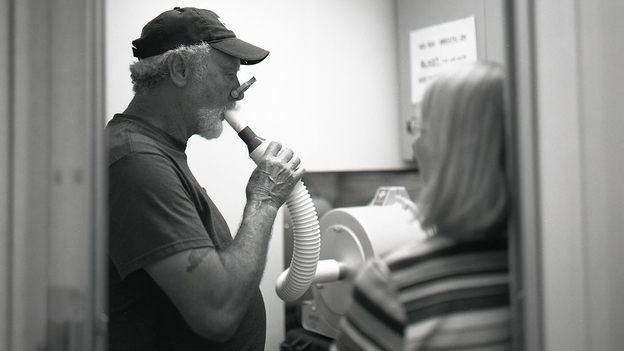 Part one of a two-part series.
It wasn't supposed to happen to coal miners in Mark McCowan's generation. It wasn't supposed to strike so early and so hard. At age 47 and just seven years after his first diagnosis, McCowan shouldn't have a chest X-ray that looks this bad.
"I'm seeing more definition in the mass," McCowan says, pausing for deep breaths as he holds the X-ray film up to the light of his living room window in Pounding Mill, Va.
"The mass is larger and more defined in the right upper lobe," he continues, clinically describing the solid streak that shows up white on the X-ray of his lungs. "If you know white is bad and black is good, I'm in a lot of trouble."
McCowan went from a clean X-ray at age 35 to progressive massive fibrosis — an advanced stage of coal workers' pneumoconiosis, or black lung — in just five years.
"You go from being normal to where … one day you try to do something you used to do, and you can't do it and you're just heaving to catch your breath," McCowan says. "And you say this is crazy. It can't be this bad. And then you realize a couple months down the road that it can be. And you realize a year down the road after that that you ain't seen nothing yet."
View complete story here.