Kentucky General Assembly Attempts to Roll Back Mine Safety Measures Drafted by ACLC, UMWA
In February 2007, widows and children of coal miners convened on the Capitol Annex in Frankfort, Kentucky, to testify in front of a House committee about an important mine safety bill. The legislation followed one of the deadliest years in recent history for coal miners in Kentucky. Sixteen miners had been killed on the job in 2006, and five of those deaths were from an explosion at the Kentucky Darby No. 1 mine in Harlan, Kentucky.

Four months before the Darby disaster, twelve miners were killed in the Sago Mine in Sago, West Virginia. Both disasters received extensive coverage in the national press, and legislators recognized that it was time for the state of Kentucky to act on mine safety.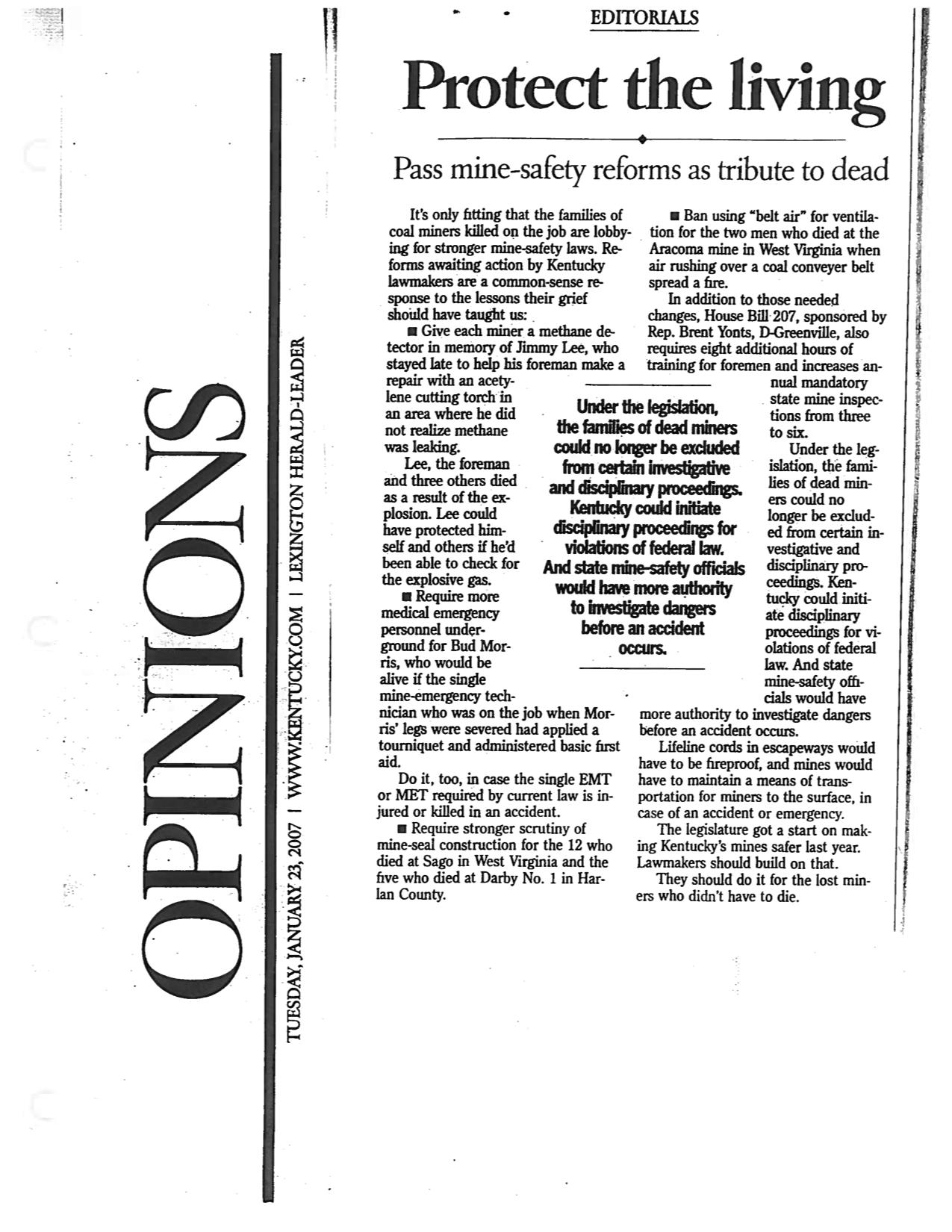 The Appalachian Citizens' Law Center worked extensively with the United Mine Workers to draft this legislation. Parts of the bill were ultimately compromised, but one important component survived: the number of mine inspections per year was doubled from 3 to 6.

Now lawmakers are trying to do away with this requirement. Last week, the Kentucky Senate proposed a state budget that would reduce state inspections of coal mines to 2-per-year, and would cut one-third of the funding for the Office of Mine Safety and Licensing.

Mary Middleton, whose husband, Roy, died in the 2006 Darby mine blast, told the Lexington Herald-Leader: "They're looking out for coal operators, same as always. It's the men who go underground and do the work and risk their lives, but the politicians will always cut corners for the coal operators. The politicians don't have to go through what we have, with the loss of a husband and a father."

Stella Morris lost her husband, Bud, in a separate mine disaster in Harlan county, and she helped campaign for the original mine safety bill back in 2007. As she told WYMT-TV last week, "If there's something going on in the mines and they're not being inspected on a regular basis, there can be fatalities there and we just don't want anymore families to go through what we went through. … I understand they need to make changes or cut some stuff, but I don't understand why they think it's not important to have mine inspections. Even though you only have a few mines operating, those mines need to be safe."

ACLC director Steve Sanders reacted similarly. "What strikes me is the arbitrariness of these actions. If the responsibilities of the office are less due to the reduction in mining activity, there should be some study showing that."

Late last week, Senate President Robert Stivers seemed to back down slightly from the proposed changes. According to the Louisville Courier-Journal, "Mr. Stivers said the Senate might be willing to allow more inspections on mines but wasn't sure it would give the agency back any of the money it cut."

Regardless of the outcome, the mere mention of cutting inspections is an insult to the hard work and dedication of deceased miners and their families. Additionally, the way in which the cuts were processed – without a public hearing, with no recommendation from the agency in charge of safety, and with no public discussion of how many inspectors and inspections are needed – is particularly shameful.

Finally, forcing the debate into a jobs vs. regulations framework is misleading and false. Cutting the budget and the number of inspections will result in less jobs. As jobs in the coalfields are already scarce, these cuts will only hurt the situation.

As the Courier-Journal put it in an editorial this week, "Kentucky coal miners need to remember who in Frankfort seems to care little about their safety and their lives."