ANNOUNCEMENT: ACLC Staff Eric Dixon to Leave Current Position in August
On behalf of our staff and board, we have some bittersweet news to announce: Eric Dixon, ACLC's Senior Coordinator of Policy and Community Engagement, will be leaving his current position in August in order to pursue graduate school.
Eric joined ACLC in 2014 as an Appalachian Transition Fellow through the Highlander Research and Education Center. After the conclusion of his Fellowship, Eric remained at ACLC as a staff member and has been with the organization for 5 years. Eric helped create and coordinate ACLC's program of work around the pursuit of a just, sustainable, and diverse economy in Central Appalachia, primarily organizing in east Kentucky, coordinating federal policy campaigns, and advocating on policies and related issues.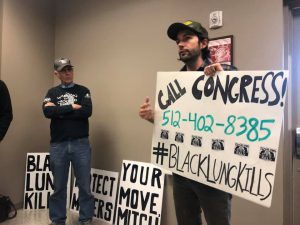 ACLC began as a legal organization and has largely focused on litigation throughout our history. Eric joined the organization as the Central Appalachian coal industry was beginning to nosedive. In the context of that sharp economic crisis, he helped ACLC consider how to expand our work to include policy and organizing around the transition to a better future for communities in the region.
ACLC has benefited greatly from his work on these issues, and from having him as a member of our team. While we will miss him, the ACLC staff wishes him well in all his future endeavors. Eric will be pursuing graduate school to study rural development and economic justice policy, and plans to continue that research in the context of Appalachia's economic transition. Though he will be leaving his current position, Eric may remain at ACLC in a limited role beyond August for specific projects.