ACLC NEWS: The Need for Full-AML reauthorization and more
A stunning new analysis from the Ohio River Valley Institute (ORVI) indicates that the cost to clean up the abandoned mine lands that threaten communities and stymie economic growth in Appalachia is far greater than current government estimates indicate — and growing. The federal government currently puts the price tag at $11 billion — but the people who live and work in the communities where these sites mar the landscape know the problem is much greater than that. By accounting for inflation and the true cost of restoration, ORVI found that the cost to clean up AML sites is at least approximately $21 billion. Waiting to remediate and reclaim the sites could end up costing billions more.
It's obvious that the need to invest — and invest substantially — is urgent. The good news is that when we do, we'll create jobs. Even a modest investment in the restoration and reclamation of abandoned mine sites would create 13,000 jobs immediately while making communities safer and turning lands that are currently a liability into new economic hubs in agriculture, clean energy, manufacturing, and beyond. This is an opportunity for coalfield communities to create a foothold for sustainable economic growth.
Earlier this year, Rep. Matt Cartwright (D-PA) introduced two bills that would help us do just that — and they already have wide-ranging bipartisan support. Along with Rep. G.T. Thompson (R-PA), Cartwright introduced legislation (H.R. 1734) to fully reauthorize the Abandoned Mine Lands (AML) fund — the fund that supports job-creating restoration projects via a small fee collected from coal companies for each ton of coal mined. The AML fund is set to expire in September this year, so this bipartisan plan to fully reauthorize it for 15 years is vitally important.
In addition, Republican and Democratic members of Congress have rallied to support the RECLAIM Act (H.R. 1733), reintroduced this year by Rep. Cartwright and Rep. Thompson to invest in funding for new projects on these restored sites, including in agriculture, tourism, retail, and renewable energy.
The momentum in the federal government for turning our abandoned mine lands problem into job-creating solutions does not stop there. President Biden's American Jobs Plan includes $16 billion for cleaning up abandoned mines and oil and gas wells, and his recent budget proposal also injects much needed funds to these efforts.
The fact that there are several efforts to invest in coalfield communities is especially important right now not just because the abandoned mine lands program is rising in cost, but because — after COVID-19, the economic crisis, and the accelerated loss of jobs — the need is greater than ever before. Cutting this support would not only keep these communities in a constant state of risk, but would be a lost opportunity to create jobs and economic growth when it is most needed.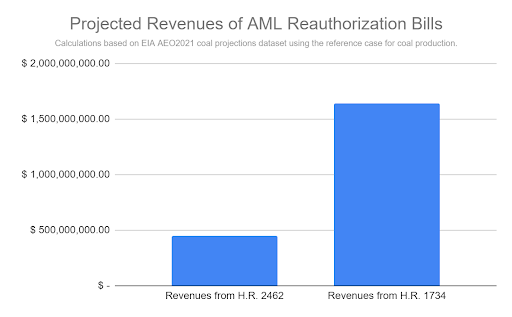 Unfortunately, legislation introduced by Rep. Liz Cheney (R-WY) — H.R. 2462 — falls far short of what the communities that sacrificed so much to power our nation need and deserve. Politicians need to be focusing on investing more in coal communities, not less. Rep. Cheney's bill is simply not enough, and it undercuts proposals that are already on the table. It would reduce the fee coal companies pay to support the AML Fund by 40% and end the fee in 7 years, versus the 15 years in Rep. Cartwright's bill — ultimately generating at most less than $500 million or the AML fund. That is barely 2% of what is needed to fully reclaim all AML. To everyone who has fought for years to secure the resources needed to clean up dangerous abandoned mine lands and bring job creating investments to our communities, H.R. 2462 is unacceptable.
By utilizing a stable fee, the Abandoned Mine Lands fund has provided investments that create jobs and help us plan for a better future throughout the coal industry's ups and downs, bringing with it a promise of safety from abandoned mine land hazards. Anything less than a 15-year extension of the AML fee at current rates will cause us to fall short of the goal of supporting our communities at a crucial time. That's why members of Congress — both Republicans and Democrats — are backing the bipartisan solutions offered by Rep. Cartwright.
Everyone agrees that the AML fund isn't enough on its own to solve this problem — but that's not a reason to reduce the fee. It means that now, more than ever, we need to build on its successes. There are other proposals on the table that can work together with the AML fund to meet the need. We can't afford the risks to our economy, our health, and our future that H.R. 2462 represents. The people and places that powered our country deserve better, and that is why we are urging Congress to support Rep. Cartwright's bipartisan Abandoned Mine Land Reauthorization Act (H.R. 1734) and RECLAIM Act (H.R. 1733) to start moving toward an economic recovery that moves our communities toward a brighter future.